I suppose the best way to start a new blog and to top off the end of another running year is to recap the major events of the 2007. So, here's a quick and dirty summary of my 2007 major running events :
January 7 - Each year for the past 3 years (2008 will be the 4
th
) begins with the annual family trip to Walt Disney World, which, brings about the running of the Walt Disney World Marathon. 2007 was the second annual
WDW

Goofy's

Race and a Half Challenge
. Runners entering the Goofy Challenge must complete the
WDW
Half Marathon on Saturday and the
WDW
Marathon on Sunday in order to obtain the coveted Goofy medal. I singed up for the Goofy Challenge (having completed the
WDW
Marathon the prior 2 years), and my wife signed up for the Half Marathon. The idea was to spend an enjoyable 2 hours or so on Saturday with the wife, followed by a "whatever" on Sunday for the Marathon. Unfortunately, on the eve of the Half Marathon, our oldest daughter (Julia) got sick and was up all night, and I gave up my Half Marathon to stay in the hotel room with her, while my wife successfully completed her first Half Marathon. A little exhausted from being up all night with Julia on Friday (followed by a rough Saturday), I managed to drag my butt out of bed on Sunday morning and completed the Marathon in
4:35:23
. We will be back at Disney again this year, where I have once again signed up for the
Goofy's
Race and a Half Challenge (no sick kids, please).
March 4 - My second
Caumsett

Park 50k
(the
USATF
2007 50k Championship) yielded a new 50k PR for me -
4:51:01
.
Greg

Crowther
took
the men's title and Anna
Fyodorova
edged out Connie Gardner for the women's title. This is a great race put on by the
Greater Long Island Running Club
.
April 29 - The
New Jersey Marathon
kicked off a 14-day period where I would run 2 marathons and a 50k. I met my friends Emily and Kristen at the start. I also met up with Mike, who I met when running the NJ Marathon as part of
Dean

Karnazes
50 Marathons in 50 States in 50 Days trek. Mike has come a long way since that event. My race consisted of a strong half, followed by a mediocre second half, finishing in
3:51:55
.
May 6 -
The Long Island Marathon
- 2 marathons in 2 weeks. I had done 2 marathons in 2 days before (2006), so I figured I could handle this. I ran with my best running buddy, Ira, and together we both blew out
PRs
, finishing in
3:40:16
. Now, if Ira hadn't stopped for that 1 minute bathroom break around mile 11, we'd have been under 3:40 !
May 12 - The
Long Island Greenbelt Trail 50k
capped off a tough 14 days. This is a particularly difficult 50k, with some technical trails and plenty of hills. A
6:42:58
finish was about 17 minutes faster then last my finish in 2006. Glen
Redpath
took first place in the men's division. The amazing
Annette

Bednosky
won the women's title.
September 1 - After a long summer of training, finally, my first 100-mile race, the
Grand

Teton

100-Mile
. I met a ton of people at this event - many I keep in touch with regularly. With the help of
Bryon Powell
, I poured it on in the last 20 miles to finish in
33:19:36
. Bryon was an amazing pacer, pushing my limits throughout the last 20 miles. As mentioned in my last post,
Andy Jones-Wilkins
shattered the course record, while Laurie Andrews won on the women's side.


November 17 - My second JFK 50-Mile was more of a fun run for me. I paced my new good friend, Bob Gentile, for the entire race. It was his second 50 miler (having done the Grand Teton 50-Mile in September), and he busted out a new PR, finishing in 11:29:20. Meredith also joined us for a good portion of this run. Anne Lundblad took honors for the women, Michael Wardian for the men.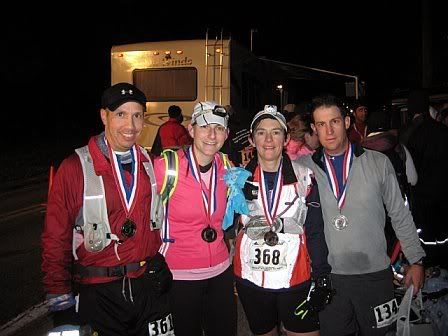 That recaps 2007....on to 2008 !

Happy Holidays.