The park, acquired by New York State in 1961, offers diverse activities such as fishing, hiking, bird watching, nature photography, and nature study. The polo pony barn provides lessons, boarding & equestrian services as part of the Willow Tree Farm Equestrian Center. The summer cottage houses the Nassau BOCES Outdoor and Environmental Education Program. The Volunteers for Wildlife Hospital and Education Center is located in the "Calf Barn" of the park's Dairy Complex which provides rehabilitation and hospitalization for Long Island's injured wildlife. The historic Henry Lloyd Manor house built in 1711 is leased to the Lloyd Harbor Historical Society which provides historic interpretation of life during the colonial period.
Course Map (click for larger view)
The course is relatively flat, with only one hill of note (as you approach the Field House). There is also usually a stiff head-wind on the back-side of each loop for runners to deal with. The course does offer a lot of convenience for runners as far as gear goes. The 2.635 mile loop makes it very easy for runners to stash their gear, gels, etc... at the start/finish area. The race is well supported. In fact, the aid station located mid-loop is always staffed by an enthusiastic and encouraging group.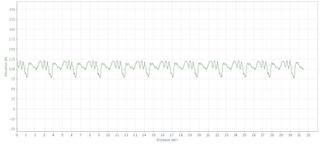 Elevation Profile
Shoe Gauge : The course is entirely paved path. Road shoes are highly recommended.
Weather Gauge : Typically temperatures this time of year call for highs in the low to mid 30s. In addition, the strong head-wind that runners face on the back-end of each loop easily drop the real feel a good 10-15 degrees.
Gear Gauge: Under normal circumstances (for the normal runner), this is a "long" race - long pants, long sleeve shirt, long everything. However, early forecasts are calling for Sunday to be mostly sunny with a high of 45 degrees (kind of middle-of-the road temperatures).
Sanity Gauge : Ok, 11.792125 laps on pavement can drive anyone crazy. Didn't someone say "and that's all I have to say about that" ??