I'm not sure what I'm more happy about right now....the awesome weekend we had in Texas at
Rocky Raccoon
, or the Giants huge upset of the Patriots last night. The trip to Texas was awesome. It was great to see so many friends and to get away from the real world for a bit.
My friend Ira and I flew out together on Friday. As luck would have it, we were able to get out of New York just before the bad weather hit, which meant we had no delays. I remember watching DirectTV in flight and seeing that JFK airport had up to 90 minute delays. We arrived in Houston at around 11:30 or so. For some reason we decided to fly into
William P. Hobby Airport
instead of
George Bush Intercontinental Airport
. I can't quite remember why we chose Hobby, but it meant an extra 30 miles of driving time to get to our hotel in Huntsville. As soon as we landed I got in touch with
Meredith
who had also arrived in Houston with her husband Eddie. We came up with a plan to meet at the Hertz car rental desk, after which we would head to Huntsville. So, I'm waiting for
Meredith
after finishing up with Hertz when it hits me.....did she fly in to G. Bush instead of Hobby ? The call went something like this : "Hey, where are you"...."I'm at the Hertz counter"...."no you're not, I am".... :)))) Ha. She was at G. Bush. Oh well.
We drove to our hotel and got settled in, then met up with
Meredith
and Eddie for a quick bite to eat at El Chico. Three things I noticed right away about Texas - Every other vehicle on the road is a pick-up truck, there is some sort of Mexican restaurant every mile, and the parking spaces are twice the size as they are in New York (I suppose to accommodate all of the pick-up trucks). After eating we headed over to packet pickup where we met up with a host of friends.
Lisa
and Jay were at the
Dreamchaser's
table. We also ran into some of our friends we last saw at the
Chicago Marathon
- Terry, Ed and Juan - as well as one of my new friends from Brewster, Wayne. There were so many others (
Lisa
had at least 40 of her students running) as well - just an amazing turnout.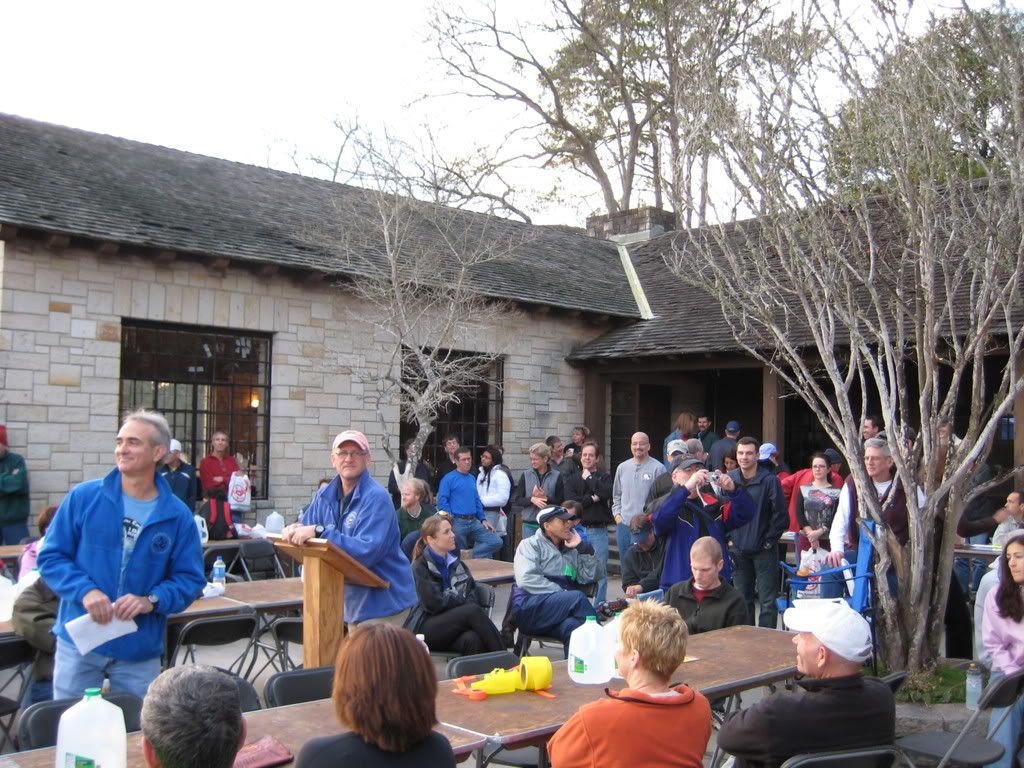 Packet Pickup
We decided to skip the pasta feed (the line was huge) and instead went to Chili's (yeah, more cheesy greasy food) - same crew as lunch. Oh, Keith was with us as well (for lunch and dinner). He is a trip. You can catch a picture of him on the
Javelina Jundred 100
website. Not only is Keith a hilarious Brit, but he's an amazing runner. I think he did the 100 in 19 hours or so. Amazing. After dinner we headed back to the hotel to relax and get ready for race day.
Race morning was a little chilly. It would later warm up into the 70s. There were lots of folks milling around prior to the start.
Lisa
and Jay had a tent just for their
Dreamchaser
clients, which made a very convenient place to store my drop bags.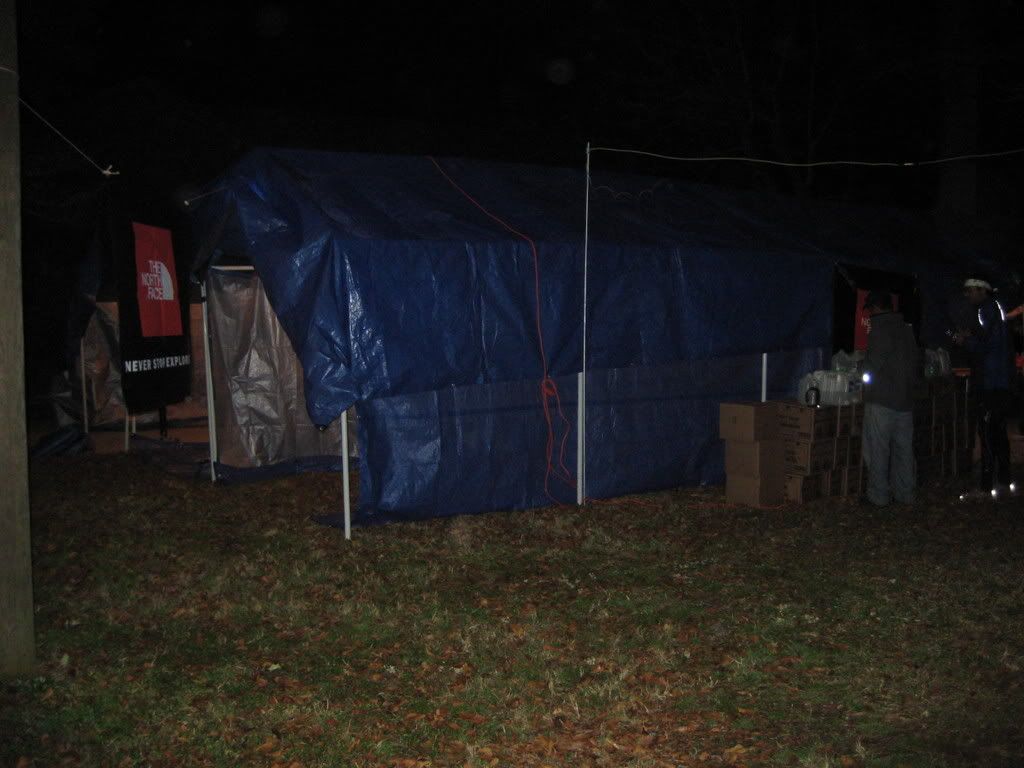 Dreamchaser Tent.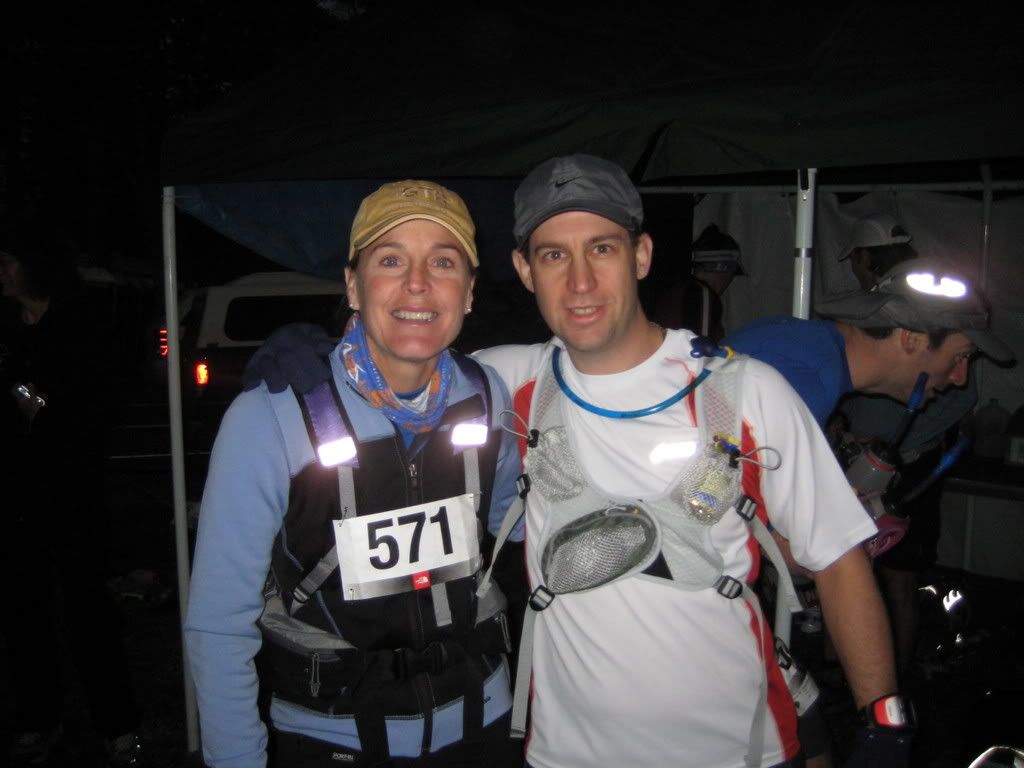 Me and Lisa Pre-Race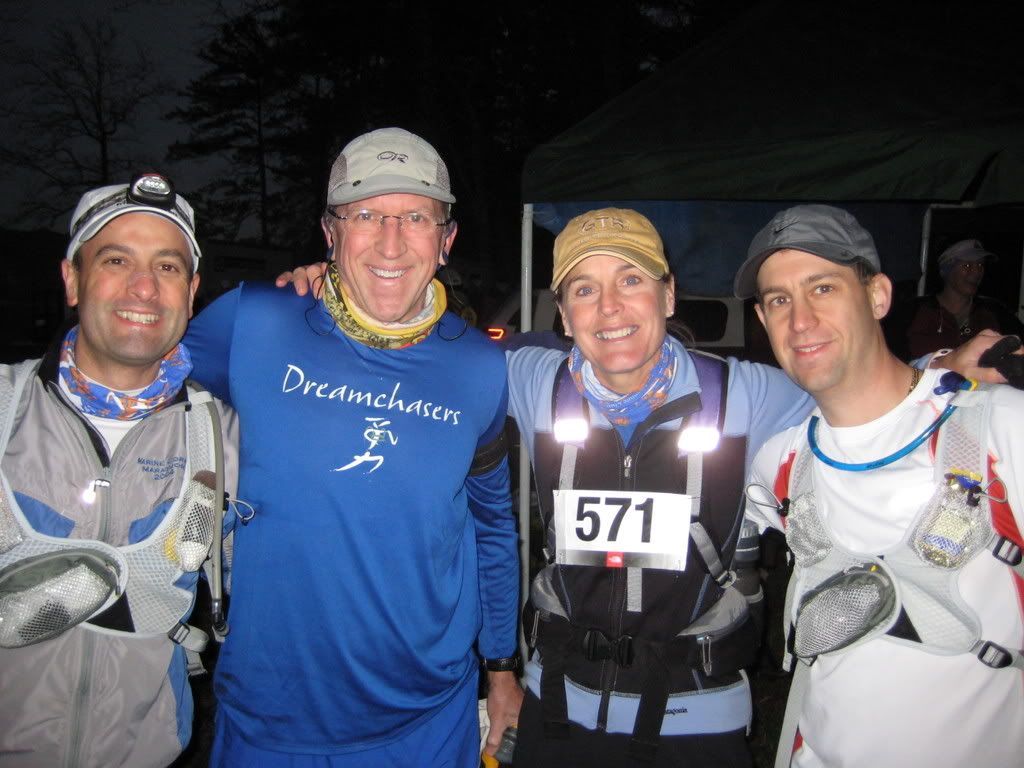 Juan, Ed, Lisa and Me.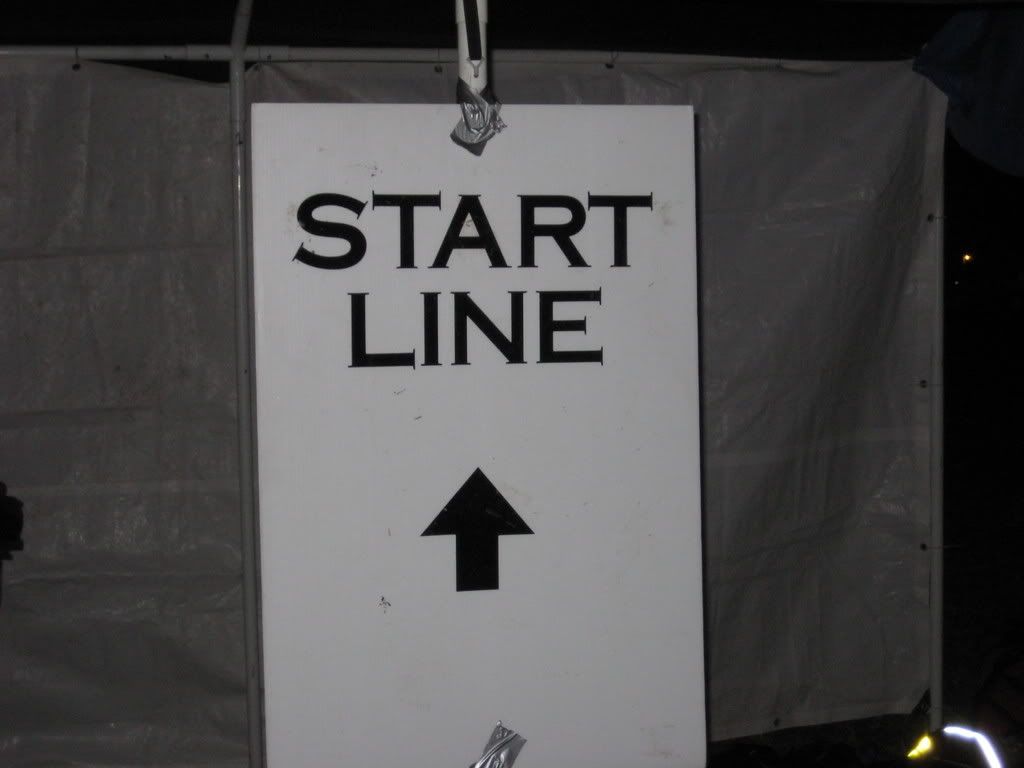 Off to the start.
The 100 milers started at 6:00 AM and the 50 milers started at 7:00 AM. I was supposed to take the first loop nice and easy, but made a critical mistake. Instead of power walking the hills (which didn't seem to steep to me), I ran them. Ira and I finished the first loop (16.67 miles) in about 2:50. This would come back to bite us. We ran into
Meredith
several times (although the course for the 100 and 50 are different, they do share some trails). She was looking like strong. I also ran into Kira, who I met for the first time at
JFK
. She was also running the 100.
Since I completely blundered loop 1, we decided that Ira would lead loop 2 with a goal to finish it in 3:30. We were about at 3:15 or so. Not too bad. But.....this was a tough loop. Ira and I both hit some ruts, including nausea. I also had a few coughing bouts that took a big toll. By loop 3 we had to reassess our goals. Sub-10:00 was looking like a pipe dream considering that our pace was plummeting. We were also walking more a little more then I'd like to, but I needed it. We caught a bit of a second wind when we got closer to the last aid station, but just weren't able to get in under 10:00. We were so close...only 2 minutes 30 seconds off. We finished in 10:02:29. On the bright side, I did set a new 50-Mile PR by nearly 15 minutes.
After finishing we hung out to see the rest of our friends finish the 50.
Lisa
, Jay, Juan, Ed, Wayne....they all finished strong.
Lisa
was pacing one of her students from Staten Island, Ed, in his first 50. What an amazing performance he put in. Jay had a bout of knee problems but, like the champ he is, pushed on to the finish. I took a bunch of shots of our friends coming in to finish.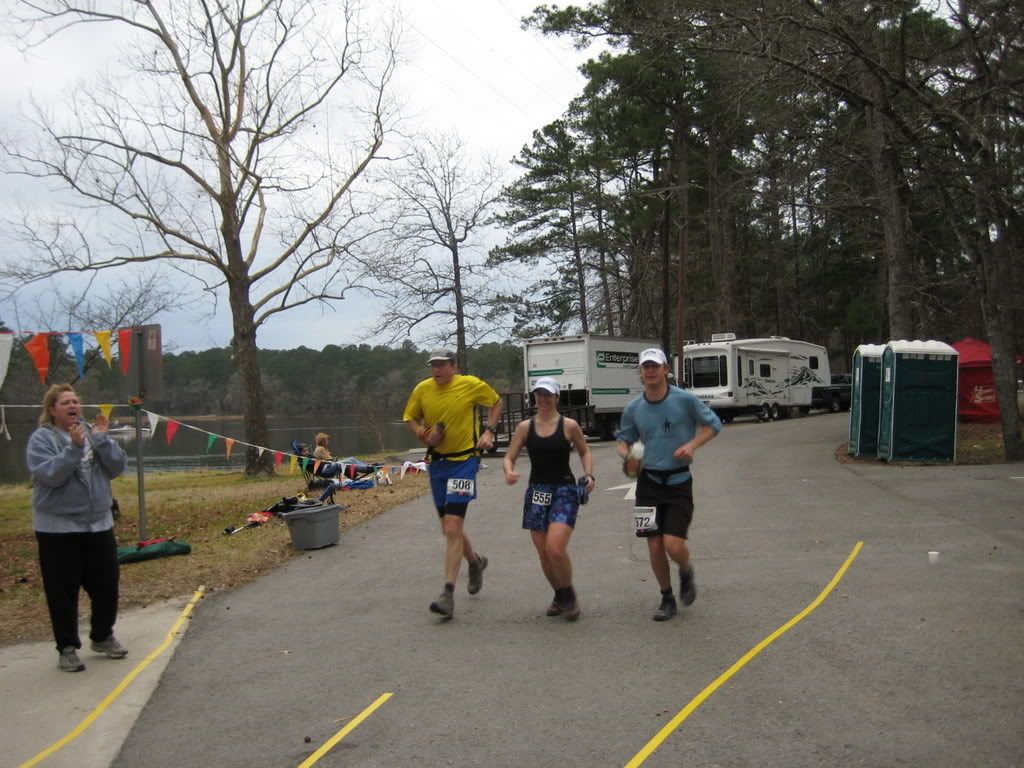 Ed K., Katy and Jay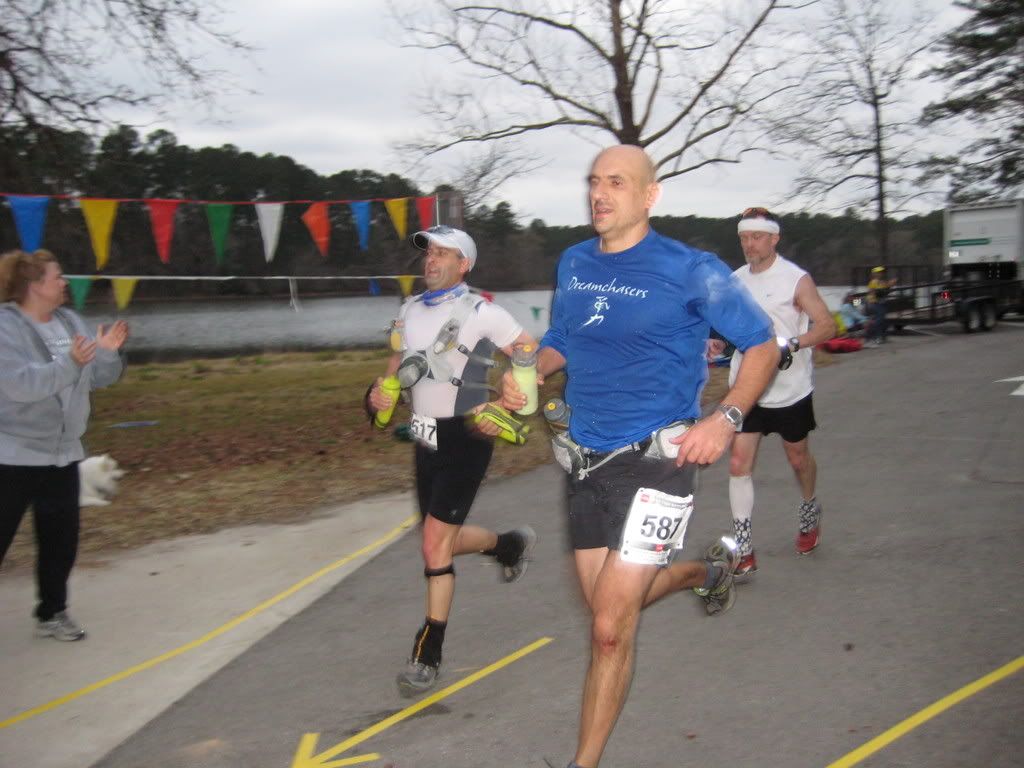 Juan and Ed M. finishing strong.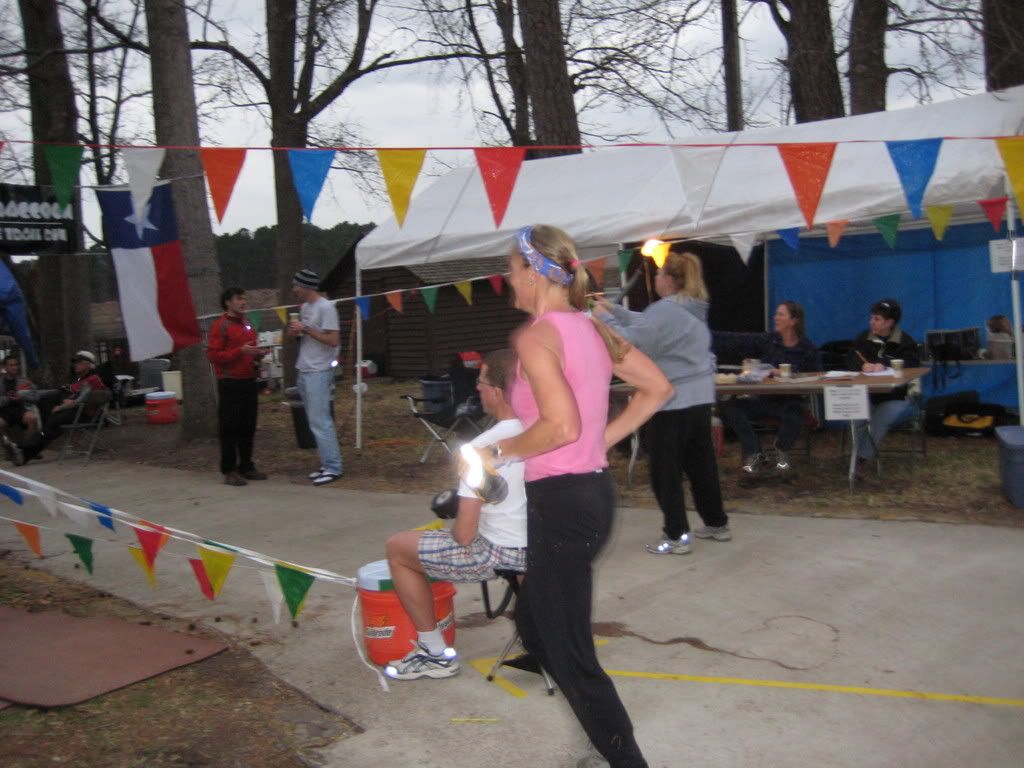 Lisa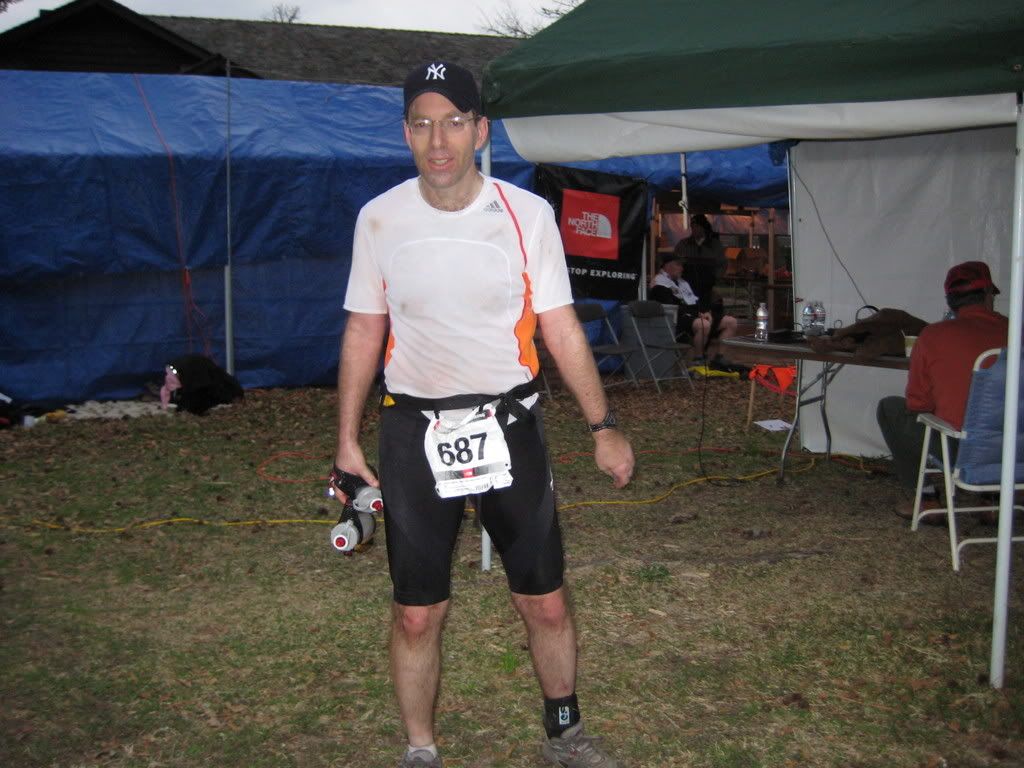 Wayne
Done, but just shy of sub-10:00.
After sharing a few stories and congratulatory hugs and high fives, we headed back to the hotel to get ready for dinner. About 20 or so of us met at Chili's (yes, Chili's again) and had a great time. It was so good to hang out with
Lisa
again. Ira and I drove back to the race right after dinner to see how
Meredith
was doing. It was about 10:30 at night, and her husband Eddie was passed out in a sleeping bag by the
Dreamchaser's
tent - he completed his first 50 mile race - awesome. I went inside the lodge to check on
Meredith
's time (you could look up the time that any runner passed the main lodge aid station). She had finished her third loop in about 13 hours and 38 minutes (about 7:30 PM or so). By my calculations, she'd make it back to mile 80 at 1:30 AM. One of the race volunteers told me that she'd be luck if she made it by 1:30 AM. At this point I had to make a decision.....if I were to pace
Meredith
for her last 20 miles (which was the initial plan), we'd probably not finish by 6:00 AM (given where she was on the course at the time). That meant I'd run into trouble making my flight home. We told Eddie (who had reluctantly gained consciousness) to let her know that the timing was not on our side, but, that if needed, I'd have my cell phone by the bed and be ready to go for a shorter distance. As I expected,
Meredith
didn't need me at all....just her I-Pod. The volunteer was completely wrong, as she made it through loop 4 at about 1:30 AM. What a trooper this girl is...just an unbelievable runner and competitor, with ice in her veins and no quit in her heart. I am so incredibly proud of her performance.
So, Ira and I woke up on Sunday morning at 6:00 AM and, after a quick breakfast, headed back out to the race, hoping to see
Meredith
finish. I have to say that I was (and still am) feeling so guilty and awful about not being able to pace her for the last 20 miles. It just wasn't meant to be and the timing was all off, but I still can't help but feel as if I let her down. I was so happy to see her finish in 25 hours and change....in a full sprint. Her last loop was at a great pace. We also ran into Keith who had finished in 19 hours and change. He was suffering a bit from a fever and cold, but still had great spirits. Congratulatory hugs and kisses were followed by a hasty exit, as we were off to the airport for the flight home.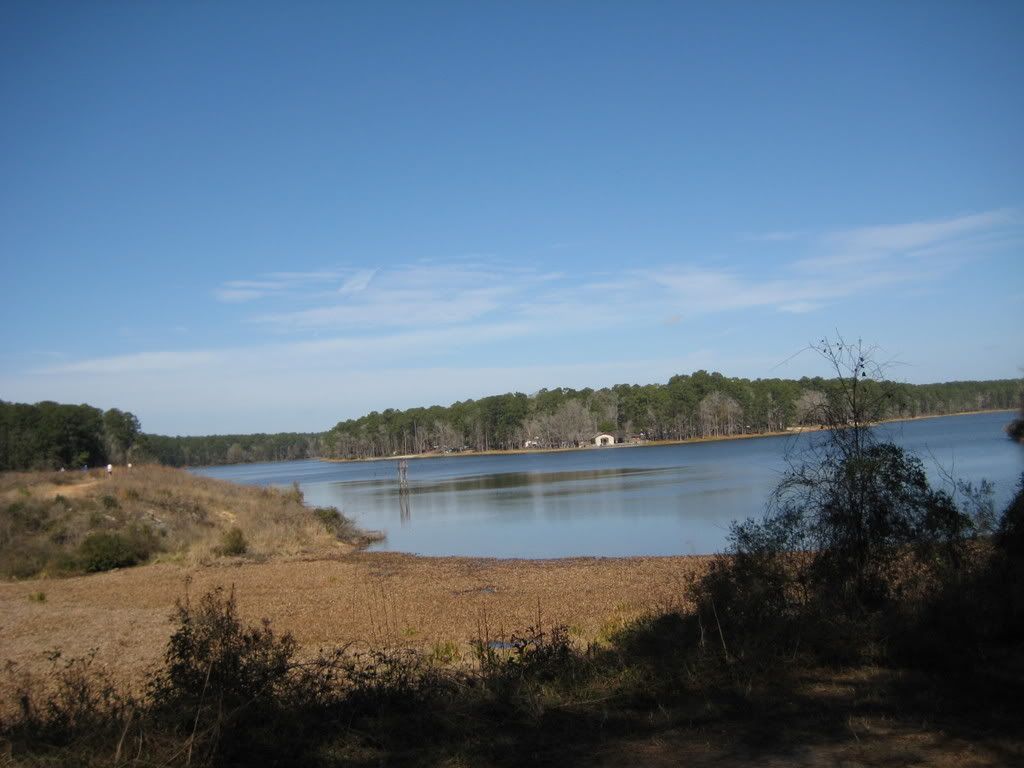 A beautiful picture from the course.
The flight home was a bit rough. I have regressed back into the cold/sickness that cost me almost 2 weeks of training, and feel awful right now. I'm sure that will soon pass, then its time to think about the
Caumsett Park 50K
. I've also added the North Face Endurance Challenge 50-Mile to my race list, and am now considering replacing
JFK-50
with
Javelina Jundred 100
. Decisions, decisions, decisions.
Oh...I wore the
Garmin 305
for this event. I was worried about the battery, but it made it through the entire race without any problems. So, here are a few cool graphs and other stuff that the
Garmin
produced....
Course map.
View Larger Map
Heart Rate Data