Every now and then one of my long runs turns into something of an adventure. I love those types of runs, where you just get lost on the trails, where deciding to turn right or left is a coin toss rather then an actual thought out decision, where you get close to the end of the run and say "holy crap, how the hell do I get back !". Today's long run was exactly that.
I met my friend Kristen at 7:00 AM at
Rockies
. The plan was to get in an hour or so of running, then head back to the parking lot to meet Dot (she'd join us for the rest of our run). Well, a turn or two here, and a turn or two there later, we found ourselves in uncharted territory. We kind of got lost in the scenery and made our way to a ridge that overlooked much of the White Plains area. For those that are familiar with
Rockies
, a quick look at the GPS map (below) of our run will show how far off the
Rockies
trail system we were (it is also fairly obvious for those not familiar with the State park).
We made our way back to the parking lot to meet Dot at 8:25 or so (nearly a half hour late) and felt pretty bad for making Dot wait for us (although she's so easy and patient that it didn't bother her one bit). We decided to head back over to the area we had just explored, to see if we could map out some more trails on the GPS and found a bunch of great hills. The total climbing for this run was about 2,700 feet (see elevation profile below).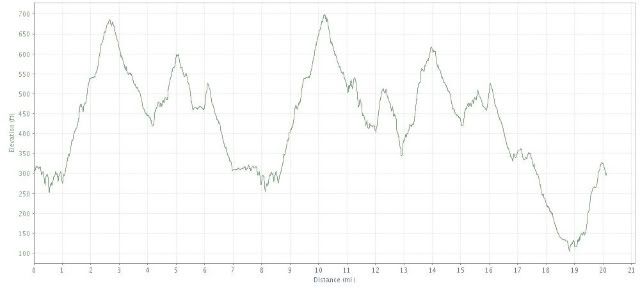 We also made our way to the Stone Barns Center for Food and Agriculture. I wrote briefly about Stone Barns in a "My Places" post that was featured on Bryon Powell's blog in January. Stone Barns is a nonprofit farm and education center designed to demonstrate, teach and promote sustainable, community-based food production. Blue Hill at Stone Barns (the restaurant) combines a working farm, restaurant, and educational center in the spectacular surroundings of Pocantico Hills, New York, revitalizing a collection of barns and creating a space that highlights the abundant resources of the Hudson Valley. The restaurant's food ingredients travel directly from harvest to the dinner table.
I was able to get a few nice pictures today (2 of the sunrise, a shot of Blue Hill at Stone Barns, two shots overlooking the "real world" below, and a gorgeous stream water shot). Enjoy.

A couple of cool things about today. Coca Cola was invented on this day in 1886. Today is also supposedly National Mom & Pop Business Owners Day and National Smoke and Mirrors Day.