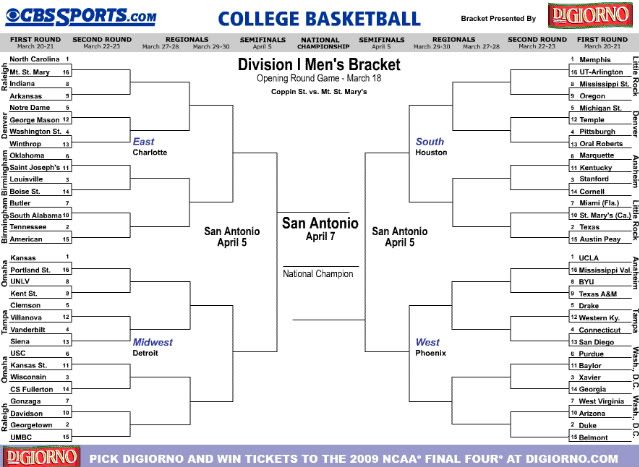 Click for Full View
I remember reading an article a few years back about the effect of the NCAA Basketball Tournament on worker's productivity.
Business Journal's 2006 article
reported that "employers will lose about $3.5 billion in wages paid to workers over the next several weeks as employees scramble to fill out and track their March Madness brackets until the men's college basketball championship game is played". One research firm "determined the nearly $4 billion loss by working with Bureau of Labor Statistics wage data and information from the Internet tracking firm Hitwise. It calculated the time spent by workers on the ESPN.com college basketball site last year was 13.5 minutes per day. "
With as many as 37.3 million workers participating in March Madness office pools and up to 1.5 million watching games online from their desks, it is a wonder that any meaningful work is actually completed during the last two weeks of March, when the NCAA holds its men's college basketball championship tournament, says outplacement firm Challenger, Gray & Christmas Inc.


According to its annual estimate, the annual distraction could cost employers as much as $1.7 billion in wasted work time over the 16 business days of the tournament, starting the Monday after the teams and brackets are selected (March 17) through its conclusion on Monday, April 7, in San Antonio, Texas.


The Challenger estimate is based on the number of people expected to participate in office pools, the amount of money they earn and the amount of work-time wasted on March Madness related activities, whether it is trash talking at the water cooler or watching live videos of the games during business hours.


It's estimated that anywhere from 28.6 million to 37.3 million Americans will participate in March Madness office pools. A 2006 Harris poll found that 13 percent of Americans aged 18 and older (28.6 million people) planned to take part in a March Madness office pool. But others, including the American Gaming Association, cite a 2005 NCAA survey that put the number of March Madness office pool participants at 30 million. The most recent estimate comes from the online recruiting site, Vault.com, whose 2007 Office Betting Pools Survey found that 27 percent or 37.3 million of the nation's workers have participated in March Madness office pools.
Scott
has set up a group at
ESPN.Com Bracket Challenge
for anyone interested making predictions and some friendly (and free) competition. The group name is
Where's PSU?
. The password is
PSU
. I am a
Vanderbilt
alum (the 4th seed in the Midwest Region) and will be rooting big time for the Commodores.
Anyone else follow the tournament and have a favorite team ?????
Oh....training, yes....my "non-productive" day started with a 5:00 AM 6-mile run at a decent clip (about an 8:30 pace) in crappy weather.