View Larger Map
Thanks to
Frank
, the seventh annual
Wurtsboro

Mountain 30k
replaced my long training run today. Unofficially, I finished in 3:07:07. Officially, this race turned out to be much, much more then I expected, both in difficulty and in scenery. The only regret I have is that I decided NOT to run with my camera just moments before the start, and thus missed out on some amazing pictures of waterfalls, mountains, rivers and streams.
For the quick down and dirty.....My friend Kristen and I drove from White Plains to
Wurtsboro
(about an hour and 15 minute trek) early this morning. At preregistration we met up with
Frank
, Emmy and Tom Triumph. Tom is an amazing dude, and is a
Badwater
finisher.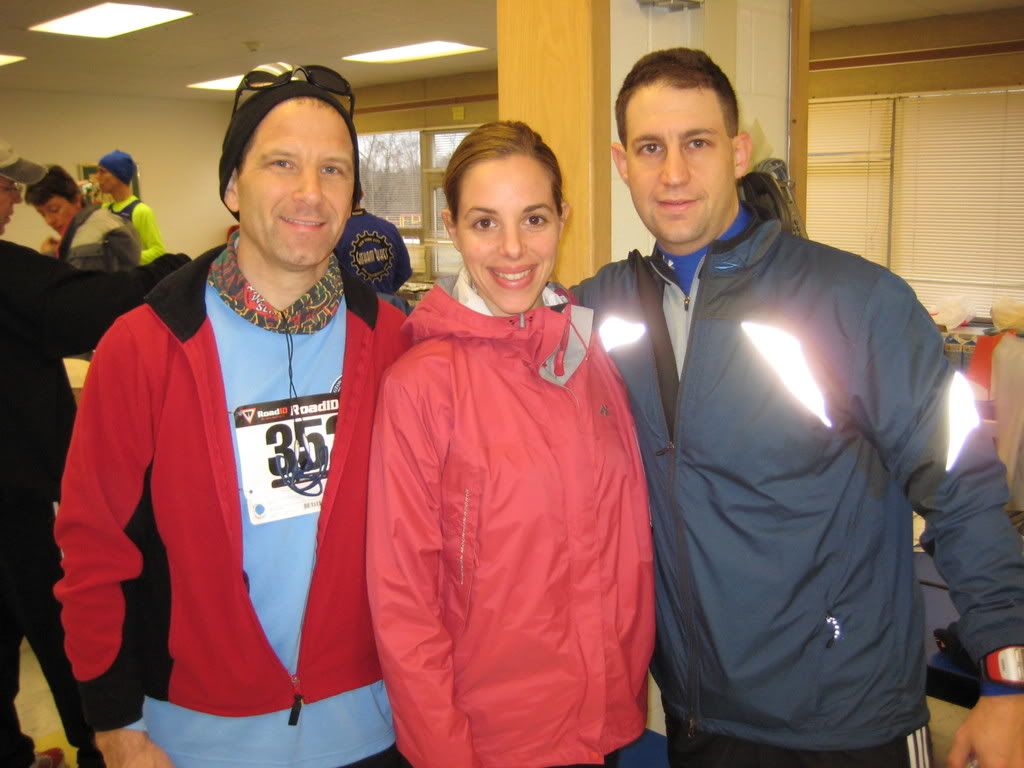 Pre
-Race (Tom, Kristen & Me)
Frank and Emmy are super speedsters (I believe Emmy finished 3rd female overall), so at the start of the race they were off and running. Me, Tom and Kristen went at our own pace and pretty much decided to have a blast together. The first 3.5 miles was a sick uphill battle. We were smart and power walked most of it, saving some gas in our tanks. when we finished the initial hill climbing, the Garmin had our overall pace somewhere in the middle 12:00s.
Then came rolling hills, and we picked up the pace quite a bit. Tom appointed Kristen to be our leader for the last 3 miles of the race, and set a goal of a 9:30 pace. Well, Kristen is tough, and she ran us through the last 3 miles at about an 8:30 pace. I am quite amazed at how we performed after the first 3.5 miles...well enough to get our overall pace down to about 10:00/mi.
Course Elevation Profile
I have to say that this was one of the best training run / races that I've run in a while, solely due to the company along the way, and also because of the scenery. It was absolutely beautiful out there. I've discovered a part of New York that I had no idea
existed
. We are actually thinking of returning next week for a long run (and I will not leave the camera in the car).
This event was
fantastic
...a definite must do if you live near the New York area.
Tomorrow I'm replacing another training run with a race (thanks, again, to
Frank
), when I head to the
Taconic
Road Runners Club 24
th
annual
St. Patrick's Day 10k
. There is a chance that Emmy and I will head over to Bear Mountain after this event to try to hike part of the
North Face Endurance Challenge 50-Mile
course....we'll see.