Today was interesting. I set out with Wayne Bates to attempt to run portions of the
North Face Endurance Challenge Bear Mountain
course. My hope was to get some sort of feel for this course that they say is rated as follows :
Elevation Change - 4 out of 5 stars
Technical Terrain - 5 out of 5 stars
Overall Difficulty - 5 out of 5 stars
Scenery - 4 out of 5 stars
The first important piece of information I gathered was travel related. The 50 mile race starts at 5:00 A.M. It took me about 35-40 minutes to get from my house to
Bear Mountain State Park
. Lesson #1 - I will probably have to leave my house at 3:45 A.M. on race day in order to get to the race with a little time to get settled in. Lesson #2 (a direct result of Lesson #1) - In order to complete all of my pre-race rituals, I will probably have to get up at 2:45 A.M. on race day. OUCH !!!!
I met Wayne at 7:00 A.M. We first ran/hiked the
Appalachian Trail
up the mountain to Perkins Tower. This is clearly NOT part of the course (the trail is marked by white blazes), but boy was it a beautiful run/hike. The views were amazing (see many pictures in the slide-show below). We ran/hiked about 1.7 or so miles to the top, then ran mostly roads back down to the parking lot. Once back down, we met up with a guy that had also just run to Perkins Tower. We asked if he was doing the North Face races - he was not but is running
Bull Run Run
on April 12. He pointed us in the direction of the race start and mentioned that he was joining a group of folks signed up for the 1/2 marathon to run a portion of the course. We thought for a second about joining them (which perhaps we should have since we kind of went in the reverse direction of the race course), but we didn't want to wait another 20 minutes for the group to arrive and also wanted to give it a go on our own.
Here's a look at the GPS map of the trails we ran today :
View Larger Map
We ended up running the initial 2 miles of the course, and then what I believe is the last section of the course. We took a turn in the wrong (reverse) direction, and ran the Anthony Wayne to Finish section (reverse and then back to the finish). It looks from a map I have that we missed the ski double track turn in the first section, and then failed to turn left on Y (S-BM). Oh well. Our elevation changes was pretty wild. You can see the initial climb up to Perkins Tower, then the big descent. Click on the elevation chart below for a larger view.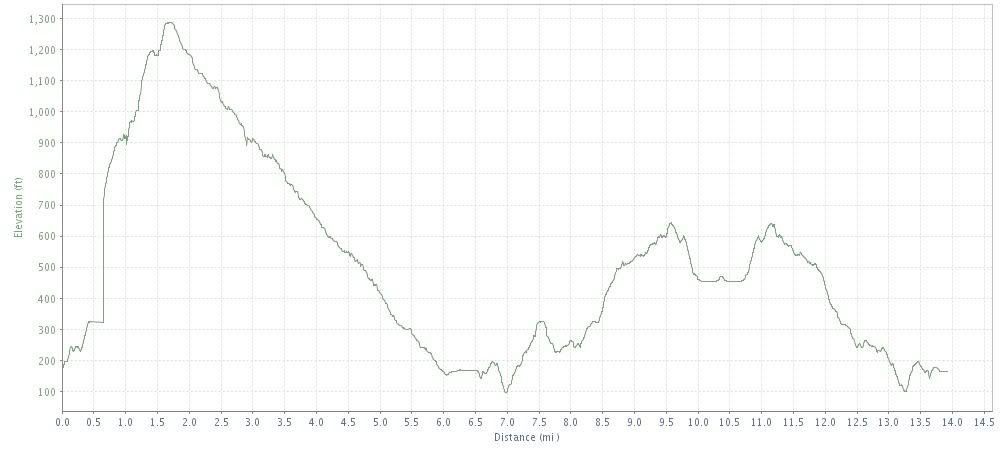 I took a ton of great pictures today. You can see in some of them how rocky the trails can be. However, most of the really rocky sections were on the climb up Bear Mountain to Perkins Tower, which is NOT part of the North Face race course.



Our friend Beardobees from the Kickrunners site (I met him at the Caumsett Park 50k earlier this month) ran about 25 miles of the course yesterday and had this to say about it :
"I just ran/hiked the first 25 or so of the 50M from Bear Mountain to Tuxedo today with a friend. After running the Bel Monte 50M last weekend, I can say with little doubt that TNF race is much more difficult. I found 2 sections totaling maybe 4 miles that might be deemed easy--the run along the Palisades shoulder and the first section of the TMI. Otherwise, it's mostly up and down, rocky, and winding. Oh, make sure to check yourself for ticks while out there/ afterward. Or maybe I'm just a frickin' tick magnet."
I think that this is going to be a very difficult race for most people, especially for those who have little experience on technical trails. The last few miles of the course are not terribly technical, but, there are portions that are quite rocky (I almost want to compare portions of what I ran today to the AT section of JFK 50). I did twist my ankle a bunch of times today. This is definitely a trail-shoe worthy event. So far, no ticks, but now I'm itching every second !