It is coming. Heavy rains, strong thunderstorms, flood watches.....we could get over 2 inches of rain by the time this event passes through.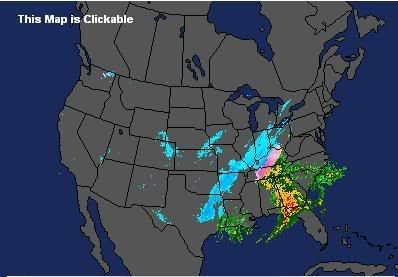 Depending on how bad it is and whether I spot one flash of lightening, this may put a damper on my planned 10 mile trail run tomorrow. With the rain coming, I got in another good 6 mile run today, adding in some speed work in the middle miles, averaging about an 8:30 pace overall.
It was somewhat ironic that
Bob
posted yesterday for the first time since February 22nd, the same day I gave him a little grief in a post on this blog. So, this blog takes full credit for the return of
Bob "blogger" Gentile
.
Anne
posted one of my most favorite comments of all time to
Bob's blog
yesterday, giving her take on what it is like to take a trip to the site - "
Visiting your blog is like arriving at a carnival and not quite knowing where to turn first
".
Enjoy the day, and stay dry.