The 30th annual
Sybil Ludington 50K
race takes place on Saturday, April 26 in Carmel, New York, and actually falls on the 231st anniversary of
Sybil Ludington's
historic ride. The race follows much of the route ridden by
Sybil
on the night of April 26, 1777 and consists of rolling, narrow country roads. Three hills on the course reach about 500 feet in elevation gain. The race has a 7 hour time limit and no maximum entry limit. The race also boasts an inexpensive entry fee - $20 prior to April 16, $25 thereafter. There is also a relay option.
Known as the female
Paul Revere
,
Sybil Ludington
was the eldest of 12 children (Rebecca, Mary, Abigail, Archibald, Henry, Derick, Tertullus, Anna, Fredrick, Sophia, and Lewis) and the daughter of a colonel in the local militia. She was born and raised in what was then part of Dutchess County, New York, near the Hudson river. On the night of April 26, 1777, at the age of 16,
Sybil
was putting her siblings to bed when word reached her house that the British were burning the town of Danbury, Connecticut. With her father's men scattered over a wide area around the Ludington house in Fredericksburg, New York (now Ludington),
Sybil
convinced her father to let her ride and summon his men.
Sybil
would ride on horseback over 40 miles on dark, unmarked roads to spread the alert of the British attach. Her course took her down through Carmel, on to Mahopac, and around to Kent Cliffs and Farmers Mills and back home. She rode alone with only a stick to prod her horse and to knock on the doors spreading the alert in time. The men whom she helped to gather arrived just in time to help drive the British, under the command of
General William Tyron
, back to their ships in Long Island Sound.
In 2007, both 3-time defending Men's (Bob Sweeney) and Women's (Ellen McCurtin) champions did not participate in the race (although both were at the race supporting fellow runners). Jim Sweeney took top honors for the men in 3:17:01, with
Emmy Stocker
outrunning the women's field in 4:29:22.
Emmy's
victory was particularly impressive considering that she had run the
Boston Marathon
just 6 days earlier in 3:39.
The Course
: The race course is particularly challenging, due mostly to its rolling pavement terrain, and its lack of road shoulder (or very little road shoulder) on much of the course. I ran this race in the pouring rain in 2006 and at times feared that oncoming and passing cars would run me over. The first 6 miles or so on Route 6 are particularly dangerous, before the course turns onto the less vehicular trafficked Route 32. Overall, there is about 3,000 feet of elevation gain/loss.
View Larger Map
Elevation Profile (click for larger view):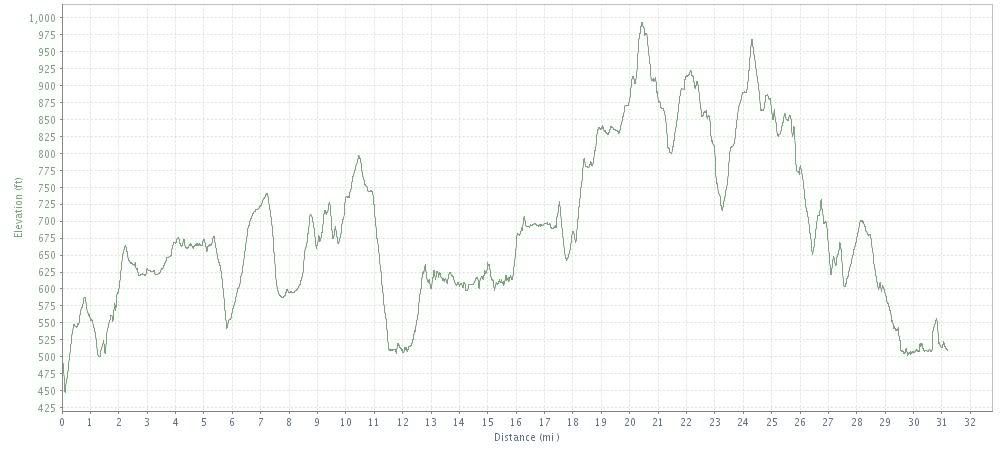 Weather: The weather in New York in late April can vary. In 2006 runners at the race dealt with rain (heavy at times) and cold. Last year, it was about 45 degrees at the start, but reached into the low 70's by early afternoon. The current weather forecast for Saturday is calling for a cloudy and cool day, with highs around 62 and lows in the low 40's.
Shoes: Almost entirely roads…no trail shoes necessary. I recall one runner last year who came to the race thinking it was a trail race, only to find out just how much his ankles would suffer on the roads in trail shoes.
Aid Stations: Fairly well spread out starting at mile 5, in 3-4 mile intervals. Water and Gatorade only. I actually run the aid station located at Route 301 and Farmers Mills Road (have to get my service requirement in for GTR 100), and will be joined this year by Meredith and her husband Eddie.
Race Directors: Anthony Galfano and David Farquhar.
Website: http://runner.org/sybil.htm