What a fantastic
New Jersey Marathon
weekend. The weekend included so many friends, both old and new -
Colleen
Tom T.
Doug V.
Marianne
Todd L. and his beautiful
family
Meredith
Kristen
Dot
My primary duties on Sunday were to pace Colleen in the
New Jersey Marathon
. That girl is one "tough woman". To put this pacing report into some perspective, Colleen ran the full marathon today on just 3-4 weeks of training (which included, yes, included a taper). I am so proud of what she did today as she was simply amazing in her constant drive to finish this race.
The weekend's festivities can actually be split into two distinct categories...."Hanging at the Triumph's House" and "A Day at the Jersey Shore".....so.....on to the details.
Hanging at the Triumph's House
Saturday morning started out with a flood of activity. My little one's (Allison) soccer game was cut short after about a half due to rain. That didn't stop her from netting two goals. We have a little deal going on, and for each goal little Allison scores she ears $1. Let's just say after 2 and a half games I'm already out $9 ! It was then birthday party time.....one near home and another about 2 hours away. After the second birthday party ended (around 6:00 PM), we drove another 2 hours to Tom's house where I would spend the night. Tom and his wife are fantastic people and put together a top of the line pre-race meal. It was at this point that I learned that I was somehow left off the packet pick-up list (oops....one of a few of Colleen's "senior" moments of the weekend). Luckily,
Meredith
made an extra trip to the expo and secured my bib and chip.
The kids had a blast. My girls and Todd's kids hit it off from the get-go, playing all sorts of games and having a blast. The adults would get a special treat - Doug put together a slide-show of his trip to the Grand Canyon with his son, complete with live narration. He had some great shots of the canyon and wildlife, and even some rather large unidentified animal droppings. With the kids getting tired, we ironed out the Sunday morning driving plans (Doug was going to pick up Todd and then shoot over to Tom's house at 5:00 AM where me, Colleen and Marianne were spending the night). Doug and Todd (and his crew) took off at some point before 10:00 PM.
Saturday night ended up being a late one. The rest of us sat around Tom's house sharing running and other war stories. We even placed a call to our favorite blogger, Bob ! Bob had logged a 20+ mile training run earlier in the day and is getting ready to go for Kettle Moraine 100. It was shortly after our call with Bob that we learned about Colleen's second senior moment - she had forgotten to bring, of all things, her running shoes. Well, I suppose that she could have run the entire marathon in her Crocs, but as luck would have it, Tom's wife and Colleen share the same shoe size. Don't they say to run a marathon wearing "something old, something new, something borrowed, something blue"....or was that some other event.
Before hitting the sack, Tom brought out a special guest for a special photo session :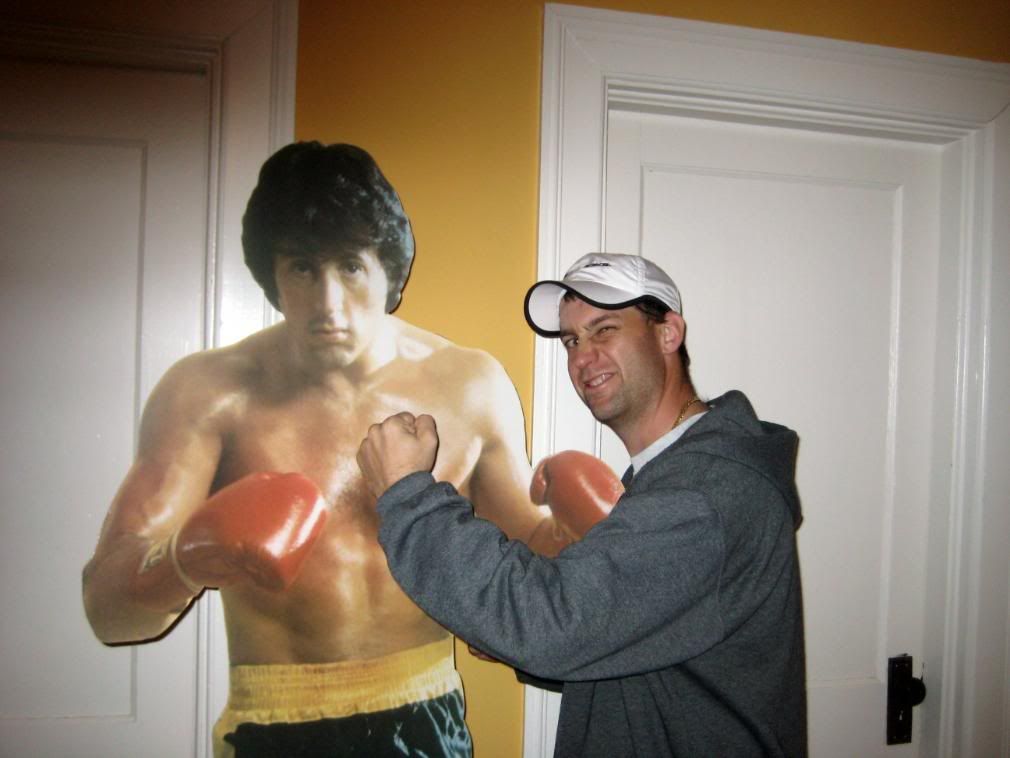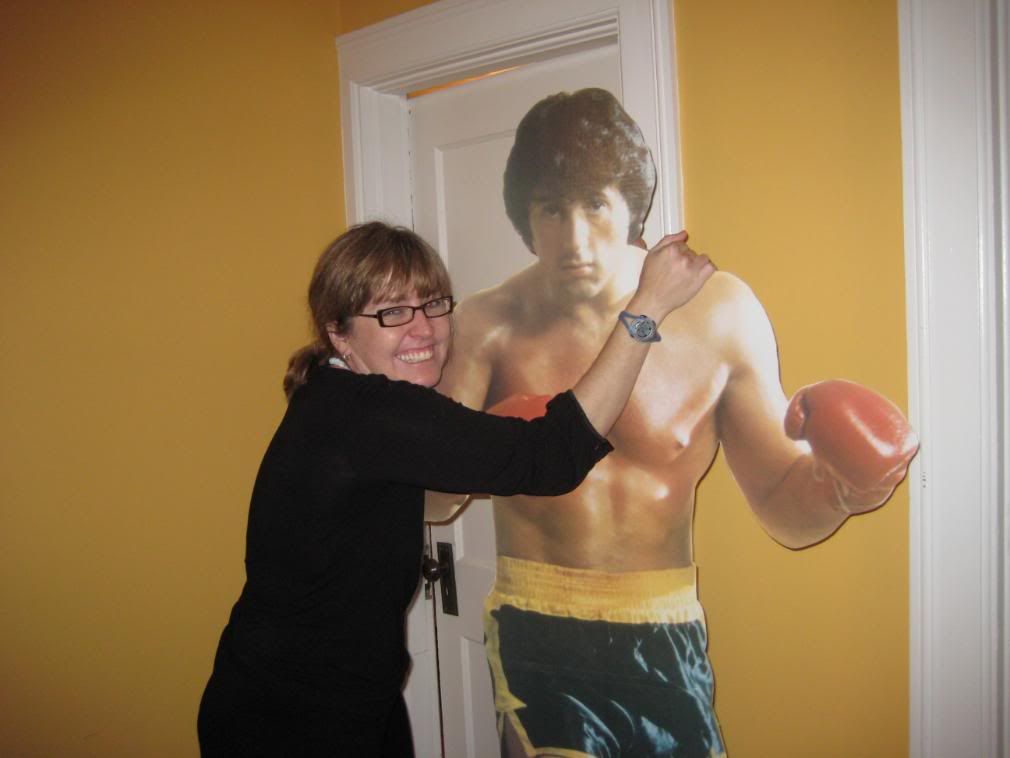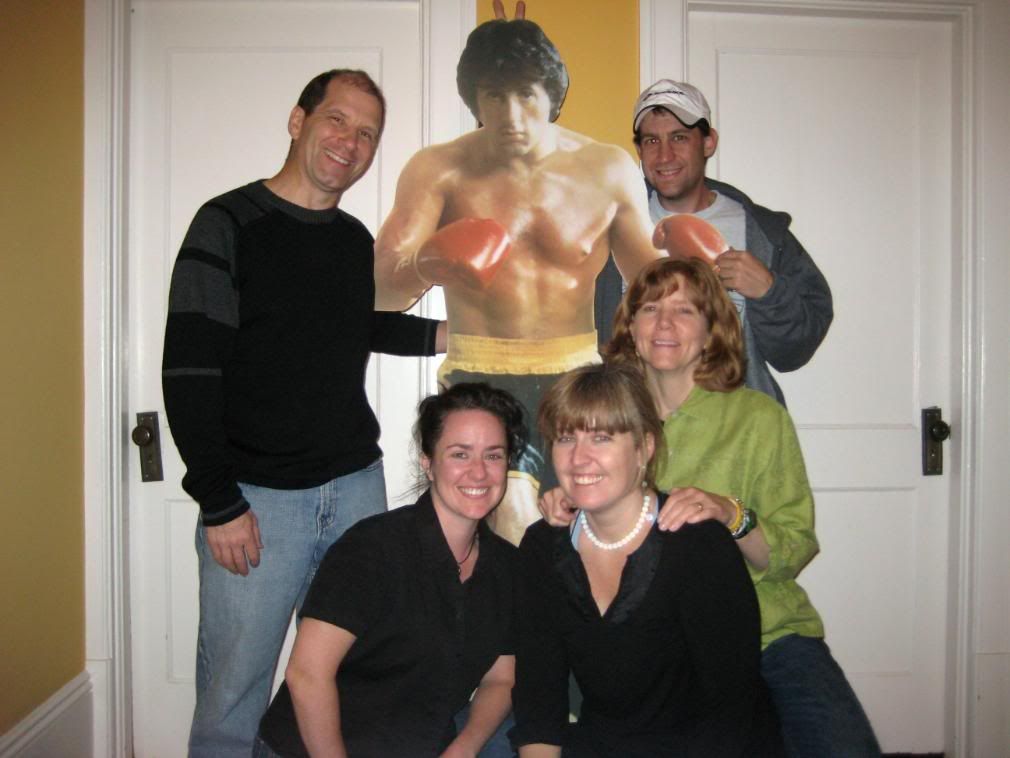 A Day at the Jersey Shore
My alarm started its cruel routine at 4:00 AM. Tom is a pro at pre-race time conservation, waking up a mere 20 minutes before Doug would pick us up. The drive from Tom's house to Long Branch took a little over an hour. We all managed to talk enough to keep Tom awake for the entire trip. Parking wasn't too much of an issue despite the traffic we hit upon entering Long Branch. We met up with
Meredith
, Kristen and Dot at the host hotel before heading over to the start.
Meredith headed out to the start with her friend who was running his first marathon and aiming for a 4:45. The rest of the crew (Dot, Kristen, Me, Tom, Doug, Todd, Colleen & Marianne) got in a quick pre-race photo before heading of to the start. Tom would be pacing Todd in his first marathon and I would pace Colleen. Dot and Marianne were running the half-marathon, although Marianne would join me and Colleen for several additional miles after her finish. The weather was a dreary and foggy, but without rain. Things started off poorly - within the first 2 miles, while filling up Colleen's water bottle, I somehow managed to lose her ! I pulled off to the side of the road about 100 yards from the aid station and started to try to find her among the 8,500 runners. No luck. Fearing she went on ahead (I told her not to stop and that I'd catch up to her), I began my speed training for the day, sprinting and weaving my way through runners, looking for Colleen. 4 minutes later I decided to go backwards, just in case she had stopped to wait for me. No luck. Again I waited on he side of the road, trying my best to locate Colleen. Still, no luck. A medic on a bicycle stopped and asked me if I was ok......alright, look dude, it is 2 miles in, I'm holding two water bottles, one without a lid, I'm looking around like I'm searching for someone in a crowd....I'M FINE !!! Well, at least it is good to know that they do their job well. So now I'm freaking out ! I commit to pacing my friend at the marathon, and two miles in I have lost her. Some would perhaps suggest that I did it on purpose since she forgot to make sure that my race packet was picked up, but I'm not that cruel. By now the walkers were passing by, and I knew that Colleen was not in that group. So, back to my speed training for the day. I began to run at a 7:15 to 7:30 pace, weaving in and out of runners looking for Colleen. I'm thinking, this sucks !!! Until......there she is, up ahead, motoring along. Phew !
I was so happy to see Colleen. We settled in for a long day, and started plugging through. We shared stories for the entire first loop of the race (this is a 2 loop race) and had a blast. I took plenty of pictures (most of which you can see in the slide show at the end of this post). We cruised through the first half and saw Marianne and convinced her (without much objection on her part) to join us for some additional miles. Marianne is a superstar herself, recently completing the Marathon Des Sables.
We took some great shots along the second half of the marathon course. Marianne got two EMTs to show us what happens to Coach Lisa's Dreamchaser students who do not follow her training and racing plans ! I would survive this encounter (thankfully without the need for mouth-to-mouth from the nice gentleman to the right who jokingly offered to do it for the shot), but fell victim to a vice of mine later in the run. Colleen continued to move along like a champ. Her run/walk strategy was right on, and she rarely missed a beat. We watched mile after mile pass by. We didn't talk as much in the second half of the race - it became more of a serious run, a task that had to be completed. Marianne was a huge help. Despite a sore ankle, she stuck with us until one of the out-and-back stretches. We split for from Marianne for a few miles, but, I gave her a few dollars and placed a little order for when we came back around.
Colleen and I continued to plug along and had a blast. She was so tough at this point....not talking much, but always moving forward. Every time I would say, "give me two more good miles of running and we'll take a walk break", she had no trouble giving me a "ok, sure". Coming back around the out-and-back we saw Marianne. After confirming my order, she took off to fill it.
What a girl....she came through with my favorite post-race beverage and a special snack as well.....a glazed donut and some coffee. I would end up running the last 2.5 miles with my donut and coffee in hand, which was good and bad. While the donut and coffee hit the spot, Colleen had picked up the pace with the finish line so close. It is tremendously tough to run with a water bottle and coffee in one hand and a donut in the other. It takes tremendous skill. Actually, I was a perfect example of a walking billboard. Todd (he works for Mars) had brought all of us Snickers hats to wear for the race. So, I was supporting Snickers, Brooks and Dunkin' Donuts all in at once.
Donut and coffee in hand (or, donut in mouth, coffee in hand), we moved forward toward the finish line. Colleen continued to push forward, passing several runners along the way. When we hit the final mile, she really started moving and took it all the way in. We saw Tom, Todd and Meredith as we finished. They had great races. Todd's first marathon was a huge success as he was well under his goal time (plus he got 5 of us to plug Snickers for 26.2 miles). Todd's kids were once again running around with my girls (they basically didn't care that daddy had finished the race).
After the race we said goodbye to Meredith and all headed out for a celebratory lunch. Overall, this weekend was a blast. Colleen was amazing. Kristen, Tom and Todd knocked out the full marathon. Dot and Marianne cruised through the half-marathon. Even my friend Mike (who we couldn't find at the start) was great in the half-marathon (he sent us a text message after his finish while we were at around mile 21). I got to hang out with an amazing group of people and run 26.2 miles with one heck of a tough runner. These types of weekends are what I love most about running - the friendships, the thrill of finishing, and the joy of helping someone else accomplish something special.
I've put together a slide-show of all of the photos from the weekend below. Enjoy.