In lieu of a Christmas gift,
Rick
was kind enough to tag me. I'm not a big "tag" fan, but what the heck.....
1. What was your 2008 running highlight and running low?
For me, 2008 was a series of running highs and lows. I don't know if I can characterize any of the highs/lows as the highest/lowest point of the year. In fact, none of the low points that I can think of are "low" enough to warrant mention. I suppose on the highlight side, the following are all worthy of mention : (1) the last minute trip out to
Rocky Raccoon 50
with Ira that resulted in a 50-mile PR; (2) the 40 mile trek through Bear Mountain for the
North Face Endurance Challenge
where I got the opportunity to meet (and spend a ton of time with) Chris, Susan and their
G.A.C.
crew (I'd meet up again with Chris, Susan and Lori at
Javelina
); (3) besting that 50-mile PR by 35 minutes at
Pineland Farms 50
in May; (4) all of the crewing and pacing I did this year, including crewing one of my best buddies
Bryon Powell
at
Iroquois Trail 100
; and (5) a 26 hour finish at
Javelina Jundred 100
.
Yet, there is one highlight that I think stands out for me above the others, and that would be the trip to
Badwater
to crew for
Jacki
. It was an amazing experience, and watching
Jacki
complete the journey in 45:18:19 was thrilling. I also got the opportunity to spend a ton of time with two of my closest running friends,
Meredith
and Eddie, as well as get to know new friends Peggy, Paul and "Mad Dog" Mike. The trip solidified my desire to apply to run
Badwater
in 2009, and gives me (I think) a leg up in knowing what to expect.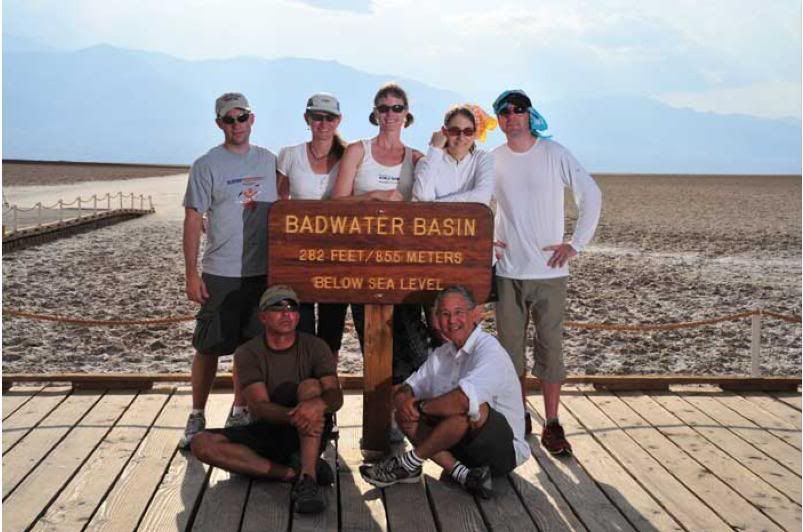 Me, Peggy, Jacki, Meredith, Eddie, Mike (seated), Paul (seated)
2. What race are you secretly planning on doing (or contemplating) for 2009 but haven't made it known to the public....until now.
Secret races ? None that I am aware of. A majority of the races I ran in 2008 were spur of the moment decisions, so, I'm sure there are some out there that I'll run in 2009 that I don't even know about yet.
3. Where would you like create and direct an ultra that (to your knowledge) none exists?
Oh, that is easy. A 100-miler at
Rockefeller State Park Preserve
in Pleasantville, New York. We have a shortage of east coast 100-milers as it is. Adding one in my backyard would be fantastic.
4. What is your "primary" race for 2009?
If I get it, it will be
Badwater
.
Otherwise, it would be any one of the 4 100-milers I have on my "tentative" schedule).
5. What is the most exciting thing about your upcoming race schedule?
6. List your planned races for 2009?
Scroll down and take a look on the right side of this site......
Best wishes to everyone for a happy, healthy and successfull 2009 !!!